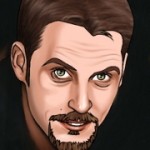 I was recently interviewed by a publisher for a short bio on their website.  Below is a sneak peak at a few of the questions and answers. 
What is your favorite medium to work in?
That's a tough one.  Pen and ink was my first love.  But over the years acrylics have grown on me.
What captures your eye and makes you want to translate that vision into artwork?
I believe I look at the world through different eyes than most.  I see depth, value, contours, horizon lines, vanishing points, contrast etc.  I look at things as simple as the road while driving, and how I would create the scene on a sheet of paper.   But new things seem to inspire me most.  A new road I haven't driven down, a new idea, new moment, new person, new feeling, or even a new pen or pencil and new pad of paper.
What style would you say is your specialty?
Since I was very young I thought the more accurately you could render an image, the better the artist you were.  I have dedicated all my life to realism, and I believe that is what I am best at.  As I grew older, I realized great artists render a feeling, emotion or idea, not just realistic images.  Now I do my best to create both.
Do you have any unique techniques that you use?
As a young man walking through the art museum I wasn't sure what made good art.  I still don't.  But Rembrandt Harmenszoon van Rijn makes me stop every time.  I enjoy the contrast from very dark to bright in his work.  I like to use similar dramatic contrasts with lighting whenever possible, and let the contrast form the image.
If you could create your dream project, what would it be and why?
Since I was a kid I loved comic book art, and studied my favorite artist's work.  I have written stories in my head that are decades old.  My dream project would be to get all of those stories onto paper for others to see and hopefully enjoy.
What do you love best about being an artist?
I do a lot of commercial art, but private collectors are usually more emotionally attached to the work I create for them.  Most of my work is sent out in the mail, but whenever I can, I like to deliver them myself so I can see their reaction.  I feel great honor and pride in creating something so dear to a collector's heart.  And incredibly lucky to be able to make a living this way.
Shane Burke, www.beezink.com