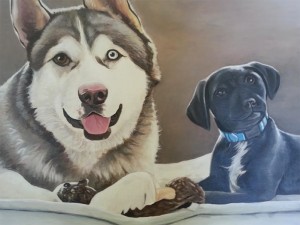 You love your pet.
  I get it.  I love mine too.   Capture your pet buddy's personality on canvas, with a hand painted portrait by Shane Burke.  When you commission a portrait of your special companion for yourself or as a gift, you will receive a high quality hand painted portrait shipped directly to your door.  Commissioning a well known artist can be very expensive and the time spent waiting for your work can seem like a life time.  Shane offers great accuracy and attention to detail in each piece, with fast turnarounds, and affordable rates.
Charlie is my three year old Malamute.  I recently rescued little Jackie; a lab pointer mix, and the two together are quite the pair.  Little Jackie rarely gives Charlie a break from wrestling and chewing on him, but I was lucky enough get a quick snapshot off with both of them looking up at me.  They grow so fast, and I wanted to make sure I had lots of photos of it, at ended up creating this great piece that now hangs in my living room.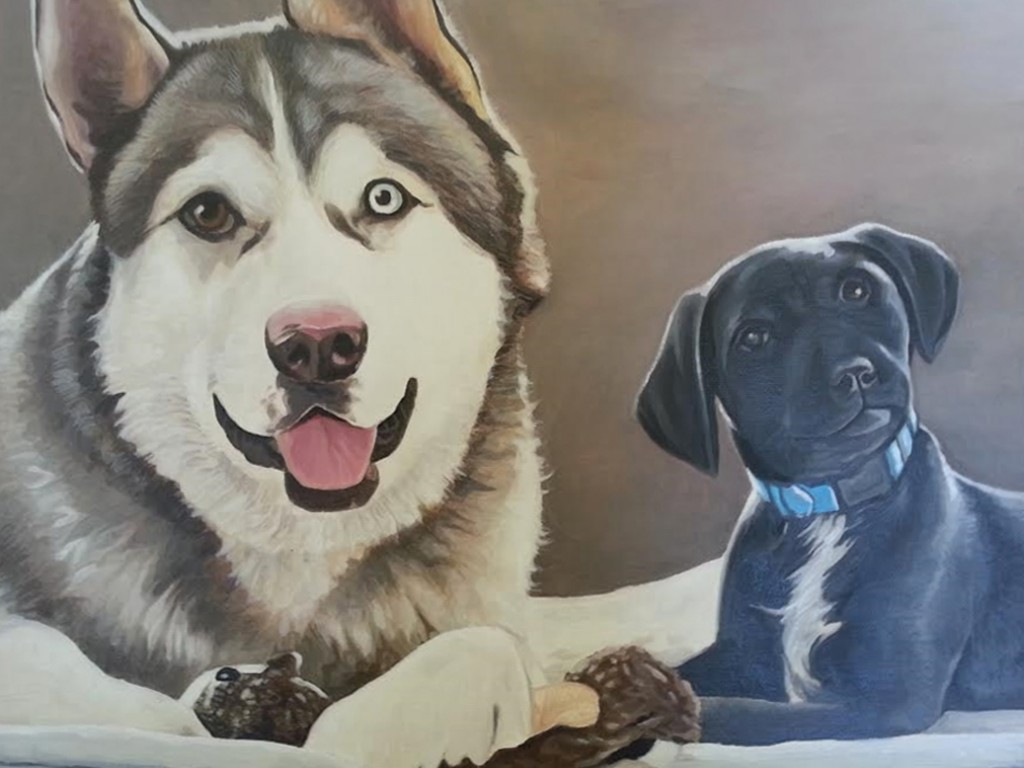 How long does it take? 
Depending on the size and number of subjects, pet portraits take 1-2 weeks to paint and be ready to ship.   Each piece is meticulously bubble wrapped and boxed, and ships FedEx ground.  In most cases, packaging and shipping costs are under $25.00 including insurance, and should arrive in under 5 days.
Pet pencil portraits are usually complete and ready to ship within two days.  Each piece is shipped USPS priority in a protective envelope and should arrive in under 5 days.  Including insurance and packaging, shipping charges are usually around $10.00
How much do custom pet portraits cost?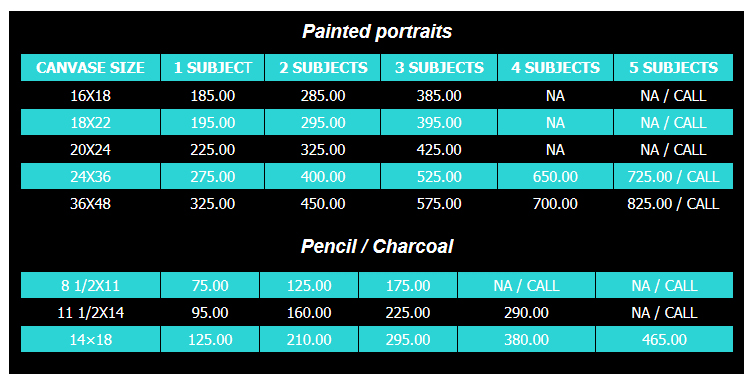 Shane Burke, www.beezink.com